10 Best Lace Front Wigs in 2020
When it comes to the best lace front wigs, it is more like the best wig for you. There is no wig that is for everyone. Despite the basic factor such as materials, wearing comfortability, cost, natural feel and look, a good wig should always be in your personality. Help to improve your look and enhance your characteristic.
Platinum Blonde Lace Front Wig: Luscious Wave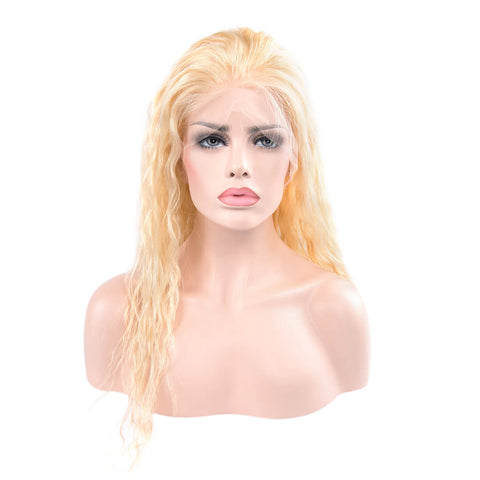 If you've looked around and I believe you have, you'll know that looks are everything when it comes to blonde hair. There's not much to hide so having the right touch is going to make all the difference. Especially if you have darker hair, to begin with, this fabulous platinum blonde lace front wig helps complete your look. I want to tell you why it works so well and how realistic that finished look impresses everyone around you.
How brave are Arison luscious waves?

You'll be able to customize this luscious wave human hair wig, so blending your hairline works like magic. The fine transparent Swiss lace front can be dyed to match your overall skin tone. Besides using the hair cap that can also be pre-colored you'll have 150% hair density to style your custom look. By the time you're done, you'll have Hollywood-quality beauty with all the benefits of real human hair. This might just be the best lace front wig 2020 has to offer!
Key features:

You can further customize the color, roots, and tones to make this front lace wig your own

It's 100% human hair so curling, cutting, and personal style will be absolutely convincing

Wear this elegant design when you want, wherever you want with total confidence

Change the color and hairstyle to keep up with the latest trends and show-stopping looks

It's available at a price that fits your budget and says you're worth a thousand words more
Long Black Silky Straight: Nature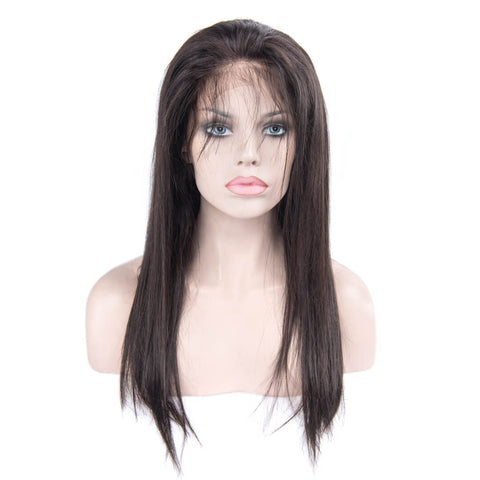 Now and then, there's always that secret urge to be seductive and mysterious. Yet having total black hair can lose that feeling. This is an incredible blend that says it all with subtle hues that won't hide all of your personality. Give yourself captivating depth with this natural black lace front wig. And show-off your delicate side without giving up your mystical secrets without anyone ever thinking it wasn't you all along.
Are you ready to go straight back to nature?

Have all the perks of the length you want with plenty of choices parting your hair just how you like. Add that with the rich undertones of natural brown and black you can customize further with just the right touch. Now you can blend away your lace front professionally with finely hand-tied knots that go unnoticed with a flawless appeal. Are you ready to bring-out your black magic yet?
Key features:

Choose lengths that best bring out your complex personality from 16-24 inches

Give yourself rich and full hair with 150% density for the maximum fullness effect

You can change-up hairstyles how you like every time you go out

Let everyone know you have dark beauty that still shows-off your softer side

100% human hair that you'll love to style and becomes your signature look
Natural Wave Bob: Intense Passion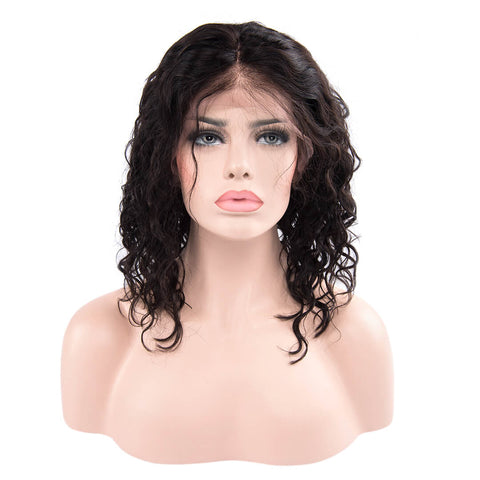 Unlike those times when you just want to let your hair down, why not go flirty without losing total control? Give the boys just enough tough love while standing your ground with a fierce bob lace front wig. With just enough natural wave that lets you bounce back during the day or night. Let everyone know you're ready to roar without scaring away the flock. Why not gain more respect through confidence with such an intense passionate look?
Be natural with some intense passion

Keep a cool head while stealing all the looks in the room. With your Bob wig with big natural waves, you get all the benefits of ventilation and breathability too. And with just the right amount of lace front coverage you can cover your hairline without being the least-bit sassy. You can further match skin tones with custom hair colors on the wig cap. Trim it, style it, and give it full intensity; not because it's top-quality, but because it's your passion now!
Key features:

Build-up or bring down natural dark waves you never through you had

You can choose from two lengths of long or short Bob wig options

Use the hair products you want to increase the level of bounce and flow

You can add character and style with streaks or hair dye tricks with 100% real human hair

Complete your Swiss lace front to match your hairline with stunning results
Mist over Sea Blue Bob Wig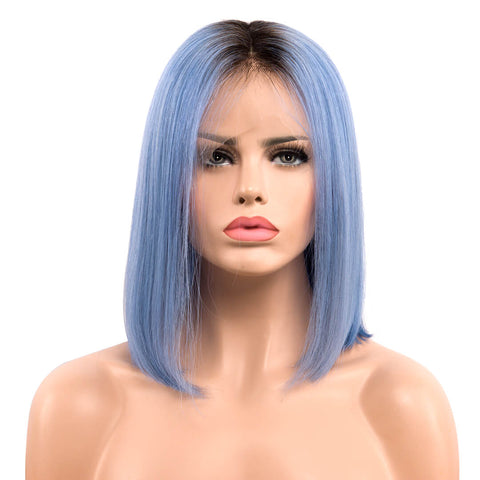 How could you not be enchanted by a color that rides on the waves of destiny? I've never been one for cotton candy colors but there is something to be said about this gorgeous misty blue. Maybe it's the inner mermaid in us all that rises-up from the depths with our song. It's perfect if you already have darker roots that blend right into a flowing blue breeze. I think this bob wig can be your siren song too.
No more salty looks for you

Everybody knows the ocean is full of mystery and has a power that no one can stop. That's how I see this lace front bob wig making waves on your beachfront. It already comes with a beautiful fade right down to your natural hair. The only question is how stormy do you want to be? Add some crimps or curly waves, or show some attitude on those storm days. With a full 150% hair density and hand-tied front half, you can part your flowing sea anywhere across your hairline.
Key features:

It's perfect for straight hair days, or change to a style using all your favorite curling tools

You can color your lace front bob wig adding more color fades or highlights as you wish

The whole front cap can be parted and styled exactly how you want to express yourself

With two lengths you can choose to cut and style for everyday use or special occasions

With a hand-tied transparent lace front your natural hairline will be virtually invisible
Short Curly: Hollywood Glam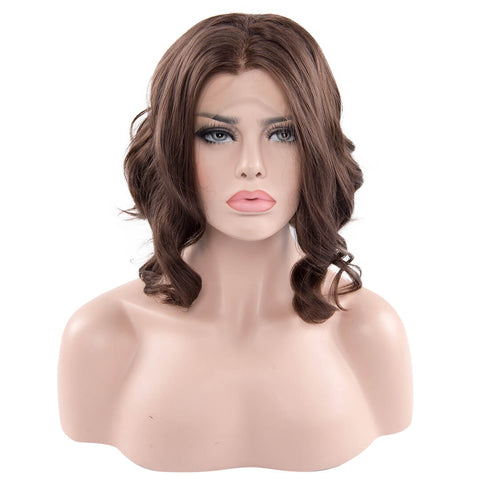 I think you'll agree that Hollywood glamour never goes out-of-style and often has a royal elegance all its own. Whether you love the look of Fergie, Anne Hathaway, or Mila Jovovich, they all have a trademark widow's peak. And now it's your turn to strike a pose on that Walk of Fame'. Especially on those special occasions where image means everything, you'll show others that you are living the dream!
Be the star of the party

This isn't a wig that everyone can pull-off, but who said you can't break those rules? Make it your example of classic beauty with some lightened tips. This luxurious mane of silky hair helps frame your face with just the right amount of shoulder curls. You can even tighten-up the rippling coils on the back to add more depth and volume. The quality is already here, it just needs you to take it to the next level of chic fashion.
Key features:

You can choose between 12 to 14 inches of shoulder curl that can always be customized

It comes with transparent Swiss lace that allows the color dye to match all skin tones

You can give your front lace wig refreshed color that best suits your mood and attitude

You'll always have 150% volume human hair wefting and knotting for a rich exotic look

Change the parting line anywhere you like in the front for stunning style effects
Natural Black Long Body Wave Wig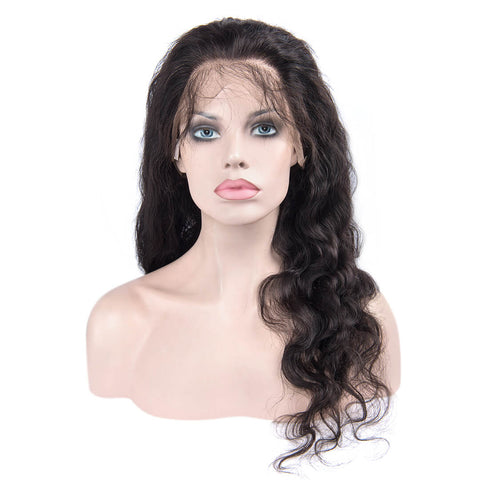 Isn't it time you define the image of beauty that allows you to let your hair down? This incredible Brazilian blend of 100% human hair can be styled, braided, and put on parade. It has just the right amount of color blending so every curl and twist you add reflects healthy shine. If you're a fan of long hair like I am, you'll love how these flowing locks flow over your shoulders. It's the perfect addition for an open blouse or strapless tops too.
Be the goddess you want to be

If this were any longer it would need to be renamed the Lady Godiva. You can select lengths from 16-22 inches and even choose a 130-150% density likewise. The majestic front lace hairline brings back the vitality of youth blending over your hair. It's perfect for those loosely braided ponytail beach afternoons up through adventurous clubbing all night long. You'll still have plenty of ventilation without feeling too bundled up. If you're looking to impress, this is another one of the best lace front wig 2020 styles you'll be hearing about.
Key features:

A brilliant solution to wear your hair in so many ways it'll never be the same style twice

This style allows you to have two choices for volume and overall thickness

Have your choice of hair length to create your own distinctive exotic and rich looks

Both the wig cap and lace front can be pre-colored to blend with your skin tone

Don't be afraid to add your distinct temporary highlights and colors just for fun
Light Brown Curly Bob Wig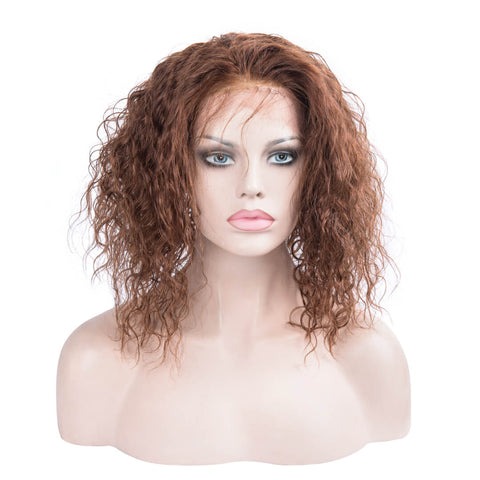 Don't be afraid to show your wild side with a modern twist. The pictures don't do this incredible wig justice since only your imagination can set the night on fire. Add the right amount of curl and style and you can have runway fashion hair in minutes. Now you can show a passion for living with a whole new sexy sophisticated look all-in-one. This is the perfect choice when you want the world to hear you roar!
Show them all your new party tricks

With a dash of Caribbean smoothness and Spice Girl savvy, this excellent lace front wig is smart and classy. Across the entire front hairline, you can create many parting lines to give you a wicked style. With open and bouncing curls you'll have no problems with the breathable transparent lace front. You can quickly change a look by switching up your parting side. Add so decorative hair clips for instant fashion accessories.
Key features:

Give yourself instant volume with 150% density that's available

You can add temporary colors and powder pigments that wash out instantly

Your 100% human hair bob wig can be washed and colored anytime you like

Use all your favorite hair care products and sprays to create stunning everyday looks

Choose from 12-14 inch bob hair length that you can customize even further
Deep Wave Bob Wig: Rave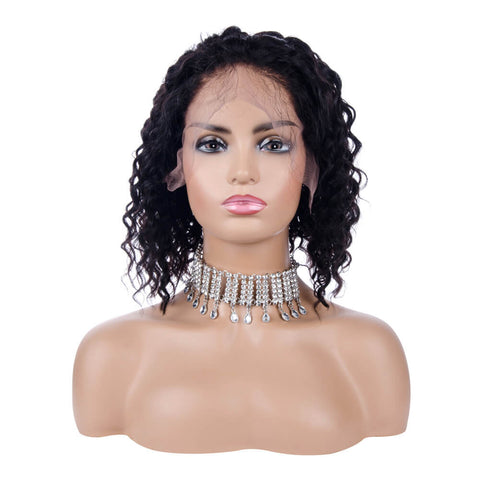 There are going to be days when you want volume but not with so much weight. Why not roll with the punches and go with a deep wave instead? I think you'll see why it's the perfect choice to show off your curls without a sweat. Lusciously soft Indian hair adds the perfect amount of fullness featuring 150% density throughout this delicate lace front bob wig. Instantly create your super-hot summer look and still keeps you cool.
Deeper thoughts but still willing to rave

Don't you want to feel free-spirited with plenty of spunky attitudes? Here is your ultimate summer girl design that you can be proud to style. These thick sensual waves keep rolling in long after the sun goes down, but you're just getting started! Even with the most intense dance moves, you groove to, this deep wave rave wig will hold its place. Right down to an utterly invisible Swiss lace hairline you'll part wherever you like. I think it's time to do it right with some serious deep waves tonight.
Key features:

Easily match-up your front lace wig right to your hairline for the perfect fit that's invisible

Dark deep wave ripples that are long-lasting and never lose their appeal

You can style and part the front half to create multiple looks no matter the occasion

Easily matches to any hairline or dark hair color with a choice of two vivacious lengths

You can add personal touches with your favorite styling iron and finishing products
Ombre Orange Natural Straight: Cherry Blossom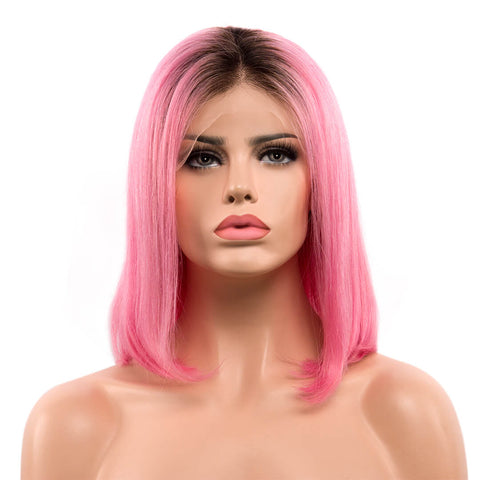 Are you curious about having a total pink vibe with a front lace wig with multiple styling options? Now pink is normally a hard color to pull off if you don't give it plenty of customized touches. I recommend you to do some trimming to clean up the edges so your finished look is more Salon-fresh. You can also get excellent deeper color tones using water coloring hair tints that can be washed-out later.
Let your imagination blossom

You'll enjoy great coverage with a 150% density throughout this lace front wig. Gradual faded dark roots explode into the intense Ombre orange-pink hues with high quality Indian human hair. You might find more variety from choosing 12-14 inches to style and cut the length of how you like. The qualities of the transparent Swiss lace netting can be invisible with just a bit of foundation powder too. Add fullness and volume with all your styling tools and hair products for fantastic finishing touches.
Key features:

You'll have more options to mix hair styling and color shading from this style of wig

This hair can be crimped, curled, and made to look fuller, adding to your everyday needs

A fresh fashionable approach to runway fashion hair you can pull-off with a modest budget

The hand-knotted front lace can be parted or styled all across your forehead instantly

Now you can have silky smooth straight hair that others will ask what conditioner you use
Natural Black Yaki Bob: Wonder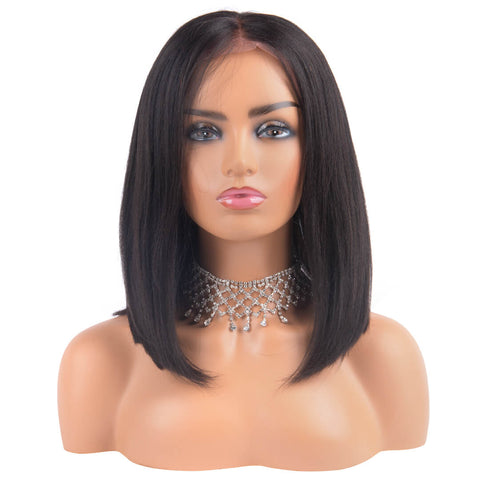 Am I the only one that thinks that seductive looks are hard work to achieve? We know how much time makeup takes to look right, but when your hair is always on-the-clock; time is everything. You want your hair to look good without having to fuss with it every five minutes. When serious professional looks are needed, you'll know why this Natural Black Wonder is on-call anytime. Show everyone how sexy and smart are two forces of nature that are taken very seriously.
Are you ready to be a natural wonder?

With just the right texture that isn't over the top, this remy Yaki hair inspires elegance and respect. Decide whether you'll need 12-14 inches over your shoulders styled to any degree you desire. It comes with a medium brown lace that you can custom lighten to match your skin tone perfectly. It also has hand-tied Swiss lace across the entire front so you can change parting lines to fit your mood. By night you can add some soft curls and increase the volume in a few minutes. Now you can take your serious business to the dance floor with the best lace front wig 2020 fashion has to offer.
Key features:

It has excellent breathable Swiss lace netting so there is always ventilation and airflow

You'll have just the right blend of natural black tones created from 100% Yaki human hair

There's 150% density to work with if you like to add waves, curls, or custom hair effects

The lace front hairline is pre-plucked and blends right into your hair without effort

You'll be able to create new looks every time you decide to step into this Yaki Wonder
---