Helping you slay your lace wig the natural way.

What is a lace front wig?
  Many people have no idea what a lace front wig is,it is really confusing with other terms such as full lace wigs,360 lace wigs,u part wigs.The lace wigs are hand made from human hair on a thin lace base.The base of the full lace wig is full of lace ,while the front lace wig only has thin lace where the hairline is obvious.The rest is made of a non brittle material, which is used for sewing hair on it by a special kind of machine.

No lace can bear tearing .Lace wigs are the most expensive wigs .So when we produce lace wigs ,we must make sure the lace is the best to produce top quality wigs.
Lace front wigs can be called a variety of names including lace fronts ,front lace wigs,lace frontal wigs,and machine made wigs.as the name suggests ,the lace frontal wigs are half hand tied half machine made wigs.The lace at the front of these wigs make the wig look more natural.The lace is made to mimic a natural hairline by blending with your skin tone.Lace fronts come in different colors such light brown lace, medium brown lace,dark brown lace and transparent lace.
Arison lace front wigs give the appearance of a natural hairline with a sheer lace material along the forehead.We offer a broad assortment of the highest quality lace front wigs ,at Arisonwigs, you can find any style lace wig you want.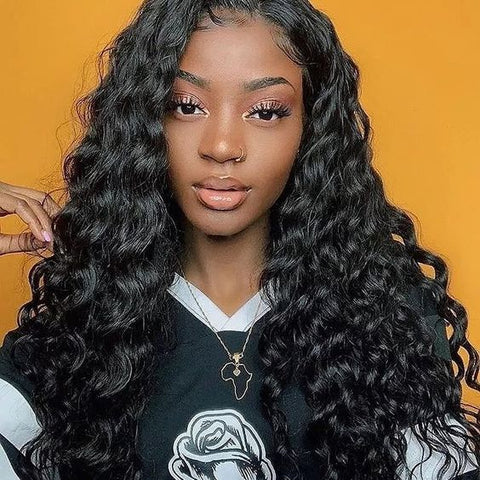 Lace front wigs do not cause hair loss or breakage of the hairline.Thinning hair can occur with improper lace front wig application ,removing and poor edge rituals when wearing your wig .Our natural hairline contains delicate hairs that not as flexible or rich with the same degree of elasticity as that of the rest of our own.This unique quality leaves them vulnerable to damage and even patchy hair loss when we inadvertently apply adhesives or tape on top of our natural hairline or fail to use the appropriate adhesive removal solution to remove wigs after wearing.
How to cut a lace front?
Lace fronts are becoming more and more popular among wig lovers,including celebrities and social media influencers. They look more natural and beautiful when installed correctly .With lace front wigs ,you can make baby hairs more visible to create a more appealing look.In order to slay your lace front wig in a more flattering and natural way it is important that the front lace is cut properly.The following is needed when cutting a lace :
1.A pair of scissors
2.hair clip or ponytail holder to keep the hair away from the face and hairline
3. A pencil to draw the line in the lace where you want to cut
4.A mirror to see yourself while cutting
5.Wig head, some people prefer using the wig head instead of their head
6.Measuring tape to create a cutting line
Before cutting extra lace make sure of the following:
~preparing your own hair so that the wig suits perfectly (doing cornrows or any style that flatten your hair)
~putting the unit in your head
~plucking the hairline if the unit is not pre plucked ,do not pull the lace and make sure your plucks reduce the density of hair along your forehead to appear less bulky
~marking where to trim the lace
cutting the lace
cutting the lace on your own head
~place the wig on your head and pull it forward so that the wig hairline is just slightly in front of your hairline .The lace part should extend past your natural hairline by a couple of inches
~secure the unit so that it does not slide when cutting, making sure the lace hairline is flat, just as it would be when installing . Use adjustable straps to secure it to your head .
~Pull wig hair back from your face and clip it.
~Cut off the ear tabs. Use the pointy end of a comb or other tool to part the hair just above your ear.Pin up the hair, leaving a small tab of the wig over the ear.Use a scissors to cut around the shape of your ear and remove the tab you cut off.



---